Indian Springs Baptist Church
5593 Veterans Memorial Drive
Tallahassee FL 32309
(850) 893-5296

email address: indspgs@gmail.com
Welcome To The Indian Springs Baptist Church Website.
T
HANK YOU FOR VISITING US.
Your comments are welcome and you may leave yours
by going to the "CONTACT US" Page.
We welcome you to explore this site

at your leisure,
and also INVITE you to join us this Sunday as we praise and worship our
LORD and SAVIOR JESUS CHRIST.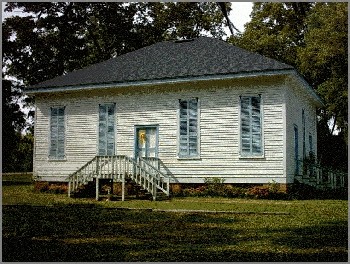 The present church building was constructed in 1854, however, Indian Springs Baptist Church began much
earlier on July 18, 1829, about three miles closer to Lake Miccosukee. It has remained in continual existence for more than 191 years and is today the oldest surviving Baptist Church in Leon County and is the 5th oldest Baptist Church in the State of Florida.
At the present time we have several 5th generation families attending Indian Springs and we pray this
community of God's love will continue through our children, their children and for many generations to come. Our desire is to minister to you and your loved ones and to help strengthen your faith in Jesus Christ.
We pray this web site is informative and inspirational and we look forward to hearing from you.
KAREN PECK & NEW RIVERSaturday, February 5th @ 5PMIndian Springs Baptist Church 5593 Veterans Memorial Drive Tallahassee FL 32309
Karen Peck & New River

was formed in January of 1991 when Karen teamed up with her husband, Rickey and her sister, Susan Peck Jackson to form the group. Over the years the group has evolved to become a complete family affair, as Karen and Rickey's daughter, Kari, as well as their son, Matthew, are full-time group members. Grant Gibson, the newest addition, completes the talented vocal group.
Karen Peck & New River has enjoyed nineteen Number One hits, including "Four Days Late", which was named Song of the Decade for 2000-2010 by Singing News Magazine. These hit releases, many,either written or co-written by Karen, include "Daddy's Home," "I Am Blessed," "I Wanna Know How It Feels," "Finish Well," "Pray Now," "Gotta Be Saved," "On The Banks Of The Promised Land," "Revival," as well as "Hope For The Nations," which the group performed in Roatan, Honduras in the summer of 2017. Come be a part of this special evening and enjoy hearing the Gospel in song.
Please invite someone to come with you! We look forward to seeing you.
A love offering will be taken.
SUNDAY SERVICE SCHEDULE

Sunday School 9:45AM
Worship Service 11:00 AM
WEDNESDAY SERVICES
Family Supper 6:15 PM
Prayer Meeting 6:50 PM
Youth & Children Activities 6:50 PM
FOR YOUR CONVENIENCE, WE NOW OFFER "ONLINE GIVING". PLEASE CLICK ON THE 'GIVING" PAGE AND FOLLOW THE INSTRUCTIONS. MAY GOD BLESS EACH OF YOU THIS YEAR.