Indian Springs Baptist Church
5593 Veterans Memorial Drive
Tallahassee FL 32309
(850) 893-5296
email address: indspgs@gmail.com
Welcome To The Indian Springs Baptist Church Website.
T
HANK YOU FOR VISITING US.
Your comments are welcome and you may leave yours
by going to the "CONTACT US" Page.
We welcome you to explore this site

at your leisure,
and also INVITE you to join us this Sunday as we praise and worship our
LORD and SAVIOR JESUS CHRIST.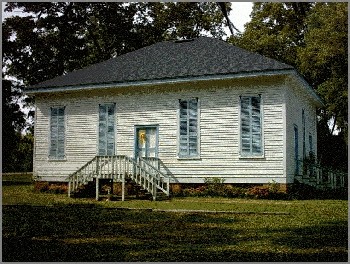 The present church building was constructed in 1854, however, Indian Springs Baptist Church began much
earlier on July 18, 1829, about three miles closer to Lake Miccosukee. It has remained in continual existence for more than 191 years and is today the oldest surviving Baptist Church in Leon County and is the 5th oldest Baptist Church in the State of Florida.
At the present time we have several 5th generation families attending Indian Springs and we pray this
community of God's love will continue through our children, their children and for many generations to come. Our desire is to minister to you and your loved ones and to help strengthen your faith in Jesus Christ.
We pray this web site is informative and inspirational and we look forward to hearing from you.
SUNDAY SERVICE SCHEDULE

Sunday School 9:45AM
Worship Service 11:00 AM
WEDNESDAY SERVICES
Family Supper 6:15 PM
Prayer Meeting 6:50 PM
Youth & Children Activities 6:50 PM